Show me what you got!
Дата: 02.04.2020 20:23:21
Dava_117, on 01 April 2020 - 03:02 PM, said
3) When I joined the Dingers. It took me some time, but in the end I recognized my noobness and got me a home in the best clan in game, the only one where forum post count is better evaluate than WN8 or WR.
Dwigt:
I think every Dinger remembers the day and how he joined the clan
I still have my "Dinger application" saved on my desktop.
_Carpaccio_, on 01 April 2020 - 03:17 PM, said:
Then when I started playing WoT actively, and started learning all the game mechanics, maps, ... properly, struggling in battles after trying "copy" plays in videos I saw (easier said than done right, or for WoT easier to watch unicorn, harder to play it yourself
), but getting slowly better and better, to my current level. Old battle where I responded to guy calling us tomatoes: hey I am almost yellow.
Dwigt:
I can relate!
If he can do it I can do it! But that's how you learn and improve right?As long as you enjoy the game then no need to worry much about stats.
Desyatnik_Pansy, on 01 April 2020 - 05:20 PM, said:
Well I haven't done even one of those bold points (ok maybe one technically, which was Duck Hunt organised by IronShinobi way back when). Does seeing the back of Jogga's head at the one Tankfest I went to count?
On a more serious note, if I had to go with three things: 1: The creation of the
Forum Bar
. I still remember actually asking iScending (the main mod dude at the time) for permission to make the thread! The community formed because of it; even if a lot of folks have slowly disappeared over the years as they move on from WoT; is 10/10 And has led to a number of things, even if the thread has slowed down nowadays thanks to stuff like Discord being just better for the casual banter. Posting a link to it honestly reminded me I should probably edit the actual OP For the first time in a long while. 2: This one is technically a twofer. The main focus definitely has to be on my Forumites Christmas Skin Special,
starting in 2016
(and oh how far we've come from there!). Within the community I think this stands out far more and is basically a community event. However I guess at the same time I have to include my actual introduction to modding in general which eventually led to it. I learned how to modify camouflage patterns through Milkym4n's (now Mirukii) old camouflage pack, though what led me to actually try editing them is beyond me. From there I created my own camos and at the urging of Barumites such as TankSchmidt, I created my first public mod; the
Custom Camouflage pack
. From there I then stepped into reskinning and created my Bronze Green British tank skins, and would from there learn how to make tanks Gold/Silver and create the Christmas Special. Later down the road I even began remodelling thanks to Mirukii and TheFalkonett, though I have since stopped remodelling well over a year ago (and no longer have the programs to continue anyway). I haven't left the modding scene and still support one active mod of my own, as well as still being part of a small modding Discord channel with even some modders from over the pond (that is to say, the NA Server). All of that stemmed from me roughly just realising I could edit .dds files in Paint.NET. You start small don't you?
3: Honestly, I'm surprisingly kinda lacking for a third. Or well, something that I'd consider as memorable as the two above. I could go with something like the brief time I was in the Dingers, or how the O In GLO Stands for "Pansy is awesome", but I'm favouring a specific battle instead. Of all the "Hero" medals and whatnot I've achieved, I think
this
still stands out the most. Achieving a Kolobanov's and a Pool's in the mighty TOG II, now that's just.. something. It's funny too because it's both a game that I don't think I played that well on (I mean.. you'll see) and is from the rare time I had XVM And had actually concluded the game a likely loss if I tried to push forward anyway (not the winchance though, it was more me basing it on the shown stats of the enemy Mediums). It's one of the rare replays of mine actually on YouTube
thanks to lordchipmonk
, since among the many things WoT Has led me into luckily I've avoided ever trying to get into YouTube or anything. I guess that works.
Dwigt:
Now I get the "Bartender" thing
and wow! I didn't know that bar existed! 6 years and still going nice keep it up Indeed, that's the way to play the TOG II. gz
tvih, on 01 April 2020 - 05:26 PM, said:
1. Teaming up with my brother for one of the competitive challenges back in the day (Sept 2011). It was the "platoon of 2" category, goal was to get as many kills as possible, I think over best three matches or something? We were in T-34s, and placed second in the category and won ourselves some gold and a metal mouse pad (that I still haven't used at all, hah!).
Dwigt:
That's cool! A nice collector's piece to own
I don't know if we still have them! Do you still team up with your brother? Or do you go to Tank/WoT events?
Cobra6, on 02 April 2020 - 07:58 AM, said:
I started playing back when I was still in university , I actually read an article on PC Gamer I think about this game called World of Tanks and that is was in Closed-Beta, so I went to the website and applied. Shortly afterwards I got accepted, downloaded the game and took my loltractor out on Erlenberg. Remember driving up the hill near the mill and seeing people fight in town. Don't think I ever crossed the field to go have a look but saw an enemy Panzer II coming my way so I ran away behind the hill. He came over and obviously killed me, so that was my first match, enjoying the scenery and getting killed
Afterwards I sent my brother and a friend an email with the game link, they got accepted as well into the beta and we've played for years. Sadly they left around 2014, then came back in 2018 and left again shortly afterwards. They've had their fill of WoT and are still annoyed by the same problems that were present in this game years ago. Managed to get all the way up to the Tiger II and Panther during closed beta and play roughly 8000-8500 matches or so, didn't care much for the Soviet tree although I did get the IS. From joining onwards I also have been very active on the forums ever since, it's a really nice place to hang out and chat actually and had some really cool, funny and interesting conversations, meme's and drama over the years. Best community I've been part of I think. My Top 3 for best memories are the following: 1) Getting featured on Best Replays of the Week in my CDC (Found it! My match starts around 3:40). Never did get the special BRW camo though
2) Getting the 3rd Mark on the Panzer V/IV before it was in the Black Market, back then one of the harder marks on the server as the requirements were very high and only unicums were playing it pretty much. 3) Playing this game, and being part of this nice community, for pretty much 10 years now which is quite a long time I'd say! 3a) Playing this game shortly after it left beta and all matches were filled with Beta Shermans, Pz5/4's and Mutants for the first day or two, a lot of fun! Cobra 6
Dwigt:
2) Getting the 3rd Mark on the Panzer V/IV before it was in the Black Market, back then one of the harder marks on the server as the requirements were very high and only unicums were playing it pretty much. 3) Playing this game, and being part of this nice community, for pretty much 10 years now which is quite a long time I'd say! 3a) Playing this game shortly after it left beta and all matches were filled with Beta Shermans, Pz5/4's and Mutants for the first day or two, a lot of fun! Cobra 6 Nice! You're a WoT Veteran
I agree with what you said on the forum and the WoT community. I honestly go during my spare time on the forum just to see read some funny posts! Most of them are from The Dingers
. But it's nice to see passionate and committed players. Thanks for staying active on the forums and in game!
Pansenmann, on 02 April 2020 - 11:32 AM, said:
So many memories... we all met at gamescom 2013 where, after drinking too much Kolsch I gotten that bonus code card for Type 59 from Victor Kisly at 4am. (I sincerely hope no pictures were taken as everyone was hopelessly drunk)
Dwigt:
That's the way to get your Type 59! Like a boss
Jumping_Turtle, on 02 April 2020 - 12:35 PM, said:
Ohh this is fun: We also have a Dinger whatssapp group where we share a bit more than just ingame news. A lot of them become real good friends. Last year Eric and Undutchable organized a Dinger beer afternoon/evening in The Hague were Dingers from The Netherlands came for some beers and to finally meet eachother in person. YPR even travelled three hours by train to get there. And than Tankfest arrived last year. I thought it would be fun to meet as many Forumites as possible so I asked the forum gods permission to start a topic and they allowed it so we started planning how and where to meet. Dingers will be Dingers so at one point my phone rang and I heard some English accent I had never heard before and it took me a while to figure out tht it was Wsatnutter who was calling from England telling me there should be a Dinger dinner party and beer evening. In the meantime Joggaman was doing his legendary stuff and made us all tshirts. Dont know exactly how much players I met at Tankfest but it worked out pretty well. Didnt knew that many Wargaming staff at the time, but ran into Eekeeboo and Ecchidna within 10 minuts of me arriving at Bovington and we had a nice talk. Later I went to try out this game called World of Tanks with Jumpmaster and had some trouble logging in but some nice bloke from WG came and helped me out. When he saw my nickname he smiled and showed us his accescard that said Vuque. Another one met. The planned dinnermeeting with Eekeeboo & Co had some trouble with the planning so we held a meeting at the tankmuseum where we handed him his Dinger Mascotte Tshirt and had some Golden Drinks with him and _Sael Wonderfull few days with the Dingers there in England.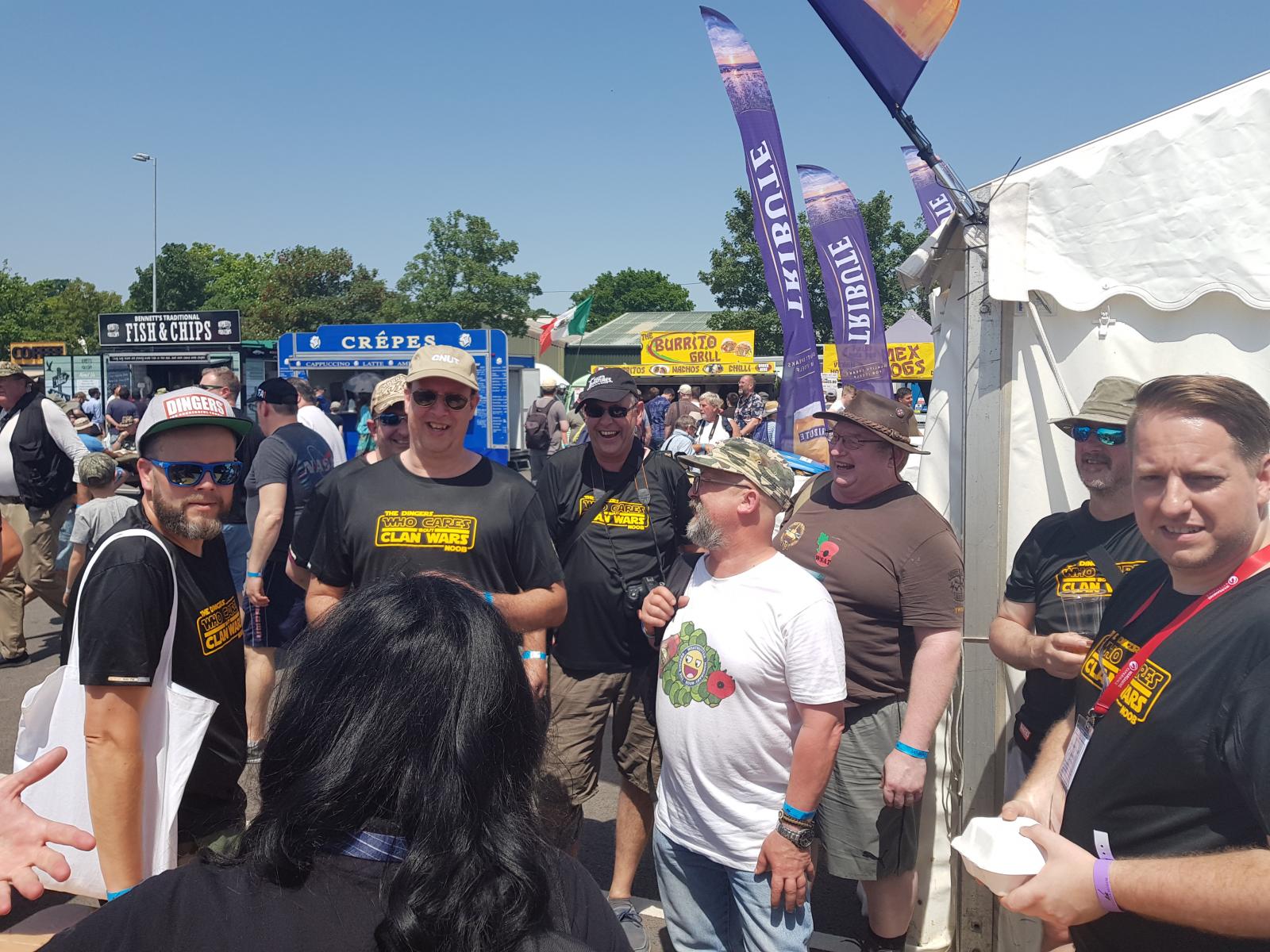 So when typing this I realized that the game itself hasnt improved much for me personally and it doesnt look like it will get better and sme things removed or added I just plain hate. But the out of the game friends I have made and also this forum still keeps me going and am having lots of fun with. Still made some new ingame goals for myself, but thats about it. But the fun in CNUT and The Dingers make up for a lot of bad things that Wargaming does to this game.
Dwigt:
First of all thank you for sharing "all" your memories with us! It's great that you guys meet up and create those relationships beyond the game.I'm really looking forward to Tankfest (if it's going to happen). It shows that you had an awesome day at tankfest. Also, like the tshirts (credits to Joggaman). And finally, to each one of you, thank you for sharing your stories, memories and for staying around after all these years. It was fun and interesting going through them all and let's hope we get more of them soon!Stay safe and take care